Save Time and Grow Your Business With Us Today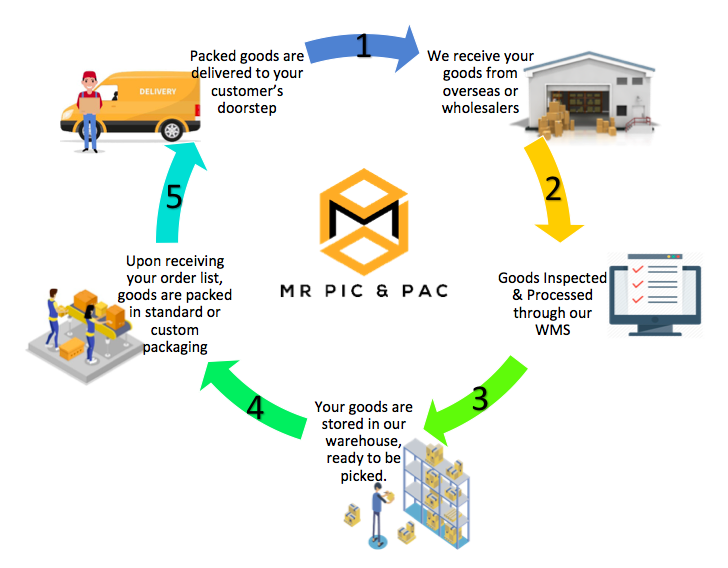 Let us pick, pack & deliver your orders
You sell, we deliver. With Mr Pic & Pac (MPP) eCommerce fulfilment services, we pick, pack and delivery your orders so that you can focus on important activities. With your order fulfilment taken care, growing and scaling your business will not be a problem. See the short video below to learn more.
With order fulfilment managed by us, logistic headache is a thing of the past. Start growing your business now!
Click on GET AN ESTIMATE button above and simply fill up the form. A customer services executive will be in touch with you within 48hrs.
We will get to know your business and introduce the services available at your disposal.
If you get here, this is where the growth begins! We will review deliverables and embrace you as your logistic partner. No minimum contract, no obligations, cancel anytime. The journey to hassle free, worry free logistics start with us.
deliver your product to our warehouse
Once contract signed, you are ready to go! Your existing inventory will be brought into our warehouse from its current location or shipped to our warehouse from your supplier. Once inventory arrives at our warehouse, the fulfilment process above will take place. Now, let the selling multiply and simply grow your sales while we do the rest!
When we receive your orders, receive automated pushed updates from anywhere as long you you have your mobile phone. Once your customer receives their orders, you will receive a signed delivery order. Be updated on the movement of your inventory at all times.
Benefits of order fulfilment
no more late nights packing orders
With packing done for you, managing your eCommerce business has never been easier. Say no to late nights fulfilling orders to meet courier datelines. Your house / office remains as a comfortable abode and not like a warehouse filled with carton boxes and parcel.
on time | fast | cheap delivery islandwide
New businesses struggle to keep delivery costs low due to low sales volume and many businesses fail to survive beyond the first year due to rising cost of last mile delivery. With Mr Pic & Pac, we keep your delivery cheap with crowd pooling. Many small businesses and small volumes add up to become one BIG delivery volume and in turn helps negotiate better and lower delivery rates. Join us now to enjoy cheap delivery in Singapore all year round.
cost effective & Scalable
We design our packages with the aim to be affordable to new businesses and scalable to growing businesses. Our optimised and tailored packages allow you to only pay for services that you require. On top of that, with tiered pricing structure, you pay lesser as you GROW!